CBD PROFESSIONAL PROGRAMME: ECZEMA

CBD effect

Effective dermocosmetics

Czech product

Betuldiol® - effective patented composition
Related products
Product detailed description
CBD PROFESSIONAL PROGRAMME: ECZEMA
The Professional Package includes:
Bioactive balm for eczema 300 ml
Bioactive micellar make-up remover water 300 ml
Bioactive cream for eczema 50 ml
Soothing bioactive shower gel 300 ml
SOOTHES ITCHY SKIN
REDUCES THE FORMATION OF SCALES AND DANDRUFF
NOURISHES AND REGENERATES THE SKIN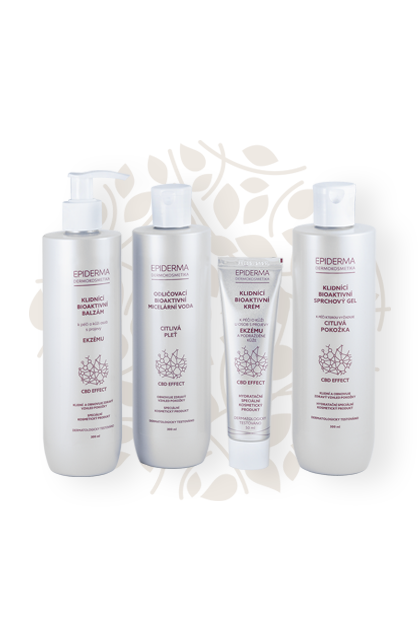 SPECIAL DERMOCOSMETICS
GIVES SKIN A FRESH AND DEWY APPEARANCE
100% CUSTOMER TESTED
EPIDERMA® BALM WITH BETULDIOL®
The special dermocosmetic EPIDERMA® balm with Betuldiol® effectively helps soothe the skin and restore its healthy appearance in people with eczema symptoms, as well as regenerating and moisturising the skin of healthy people. The skin is refreshed and takes on a youthful appearance. You will be pleasantly surprised with the effect after 14 to 21 days. At the same time, with regular care, you will reduce the recurrence of eczema and reduce your consumption of much-hated corticosteroids.
You will love EPIDERMA® balms even if you do not suffer from any skin ailments. Because of their properties, they offer superb prevention against skin aging and also stop the formation of stretch marks caused by rapid growth or pregnancy.
HOW TO USE THE BALM?
Apply to the skin in a thin layer in the morning and evening, or as needed during the day.
For various eczema conditions, it is advisable to first treat the skin with Epiderma® balm to give the skin much needed special nourishment and hydration. This will also strengthen the defences of the affected eczematous skin against external influences.
For very problematic areas, we recommend applying Epiderma® 50 ml cream on top of the balm layer. For dry skin, apply the balm as needed in a thin layer. The skin will become supple, moisturised, and take on a healthy appearance.
---
EPIDERMA® BIOACTIVE CREAM FOR ECZEMA
Bioactive cream for eczema contains highly effective and biologically active substances in the original and timeless Betuldiol® composition, which affects inflammatory processes in the skin and so relieves unpleasant itching and constant scratching. With regular care, special EPIDERMA® dermocosmetics help you restore pleasantly supple skin and relieve you of the unpleasant itching sensation of dry and reddened skin in the case of eczema.
The symptoms of eczema need limit your life no longer. Give your skin relief and regeneration.
HOW IS THE CREAM USED?
Apply the cream topically to well cleansed areas in the morning and evening.
---
EPIDERMA® SOOTHING BIOACTIVE SHOWER GEL
EPIDERMA® soothing bioactive shower gel is a product with a new, next-generation composition containing BETULDIOL®. Shower gel with BETULDIOL has exceptional soothing, regenerating, and cleansing properties for skin that is very sensitive to allergic, as well as delicate.
The product does not dry out or irritate the skin, after washing it keeps the skin feeling pleasantly clean, and it preserves the skin's natural protective layer, which is nourished with lipoid substances from the product. With us you can take for granted that perfume is hypoallergenic, and the product is high quality. It restores suppleness, elasticity, and hydration to the skin.
Bioactive shower gel for sensitive skin is an integral part of regular, comprehensive care for problematic skin with manifestations of eczema-atopy, psoriasis, and acne. However, it will also be appreciated by all users who want a product for their skin that is gentle, but also has a nourishing and effective composition.
HOW THE SHOWER GEL IS USED?
Apply to damp skin and rinse off.
---
Epiderma® BIOACTIVE MICELLAR MAKE-UP REMOVER WATER
EPIDERMA® bioactive micellar make-up remover water effectively and gently helps to cleanse sensitive or problematic skin of impurities and make-up. Thanks to the Betuldiol® content, the skin remains calm, clean and soft.  It prevents the formation of wrinkles and is an important component of the entire EPIDERMA professional programme to achieve beautiful and youthful skin. The regenerating and moisturising effects of the product, which leave the skin nourished and soft to the touch, will be appreciated even by people with mature skin.
HOW TO USE BIOACTIVE MICELLAR WATER?
With a moistened cotton pad, use gentle strokes to remove make-up – even around the eyes. The water does not need to be rinsed off.
Jak pečovat o pokožku při ekzému s kosmetikou EPIDERMA®?
J
Jana V.
Produkty jsou velmi příjemné -krásně voní -nezanechává mastný film -po delším užívání je kůže příjemná na dotek
Š
Šárka C.
Koupila jsem celý Ekzém program" jako dárek k narozeninám a myslím, že jsem obdarovanou velice potěšila, produkty používá teprve krátce asi týden a už teď jsou vidět pokroky. Produkty jsou na kůži příjemné, vůbec nedráždí. Musím uznat , že výrobky značky Epiderma jsou velice kvalitní, velký dík patří panu doktorovi Skalickému i celému jeho týmu.