BIOACTIVE CBD BALM FOR ECZEMA, 300 ml

CBD effect

Effective dermocosmetics

Czech product

Betuldiol® - effective patented composition
Related products
Product detailed description
ECZEMA – SOOTHING HEMP BIOACTIVE BALM
You can see the expected result after 14 to 21 days and it will leave you really pleasantly surprised! Moreover, with a regular routine there is no risk of the eczema recurring, and, at the same time, consumption of the much-hated and feared corticosteroids will decrease.
One of the goals of EPIDERMA dermocosmetics is for the products to be useful in preventing other skin diseases or ailments that may trouble us at certain times of life and during certain bodily changes. EPIDERMA bioactive balm can become your partner if you want to maintain the appearance of eternally youthful skin, but it is also unbeatable against stretch marks – a possible side effect of weight loss, faster growth or pregnancy.
SOOTHES ITCHY SKIN
REDUCES THE FORMATION OF ECZEMA
REGENERATES THE SKIN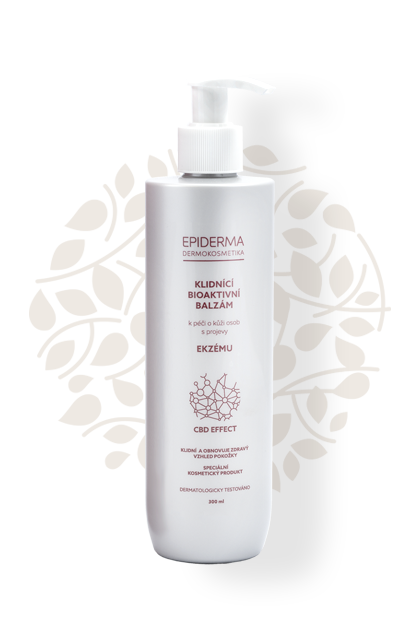 REGENERATES THE SKIN
PREVENTS THE FORMATION OF CRACKS
GREAT SKIN MOISTURISER
EFFECTS
Moisturises the skin very effectively
Nourishes the skin to a high standard
Restores the skin barrier
Makes the skin supple
Stops the skin itching
Prevents cracks and stretch marks
Reduces the appearance of wrinkles
Adjusts the skin's pH factor
Anti-aging effects
HOW TO USE THE BIOACTIVE BALM?
Using bioactive balm is intuitive, just like all other EPIDERMA products. After washing your skin with shower gel, apply the balm in a thin layer every morning and evening, and also as needed during the day. Whatever form of eczema you suffer from, after treatment with EPIDERMA balm your skin will be nourished and hydrated. Because eczematous skin has less defence against external influences, the balm also strengthens its resistance (eczematous skin is particularly sensitive in contact with the external environment).
On significantly affected areas of skin, we recommend applying Epiderma bioactive cream on top of the bioactive balm. For drier skin, apply the balm in a thin layer, as needed.
With consistent use, your skin will reward you with a hydrated and healthy appearance – you can say goodbye to the 'biscuit look'.
SKIN TYPE
For dry and sensitive skin with eczema symptoms
For normal skin
Additional parameters
Category

:

CBD cosmetics for eczema
Weight

:

0.355 kg
Gender

:

Unisex
Skin type

:

Problematic, Eczematous, All skin types
APPLICATIONS

:

DERMALLY – ON THE SKIN
Form

:

Balm
Patents

:

BETULDIOL®
Properties

:

Regenerating, Moisturising, Hypoallergenic
Objem

:

300 ml
Ingredience

:

Aqua,Cannabis Sativa Seed Oil, Glycerin, Bis-PEG-18 Methyl Ether Dimethyl Silane, Cetearyl Alcohol, Paraffinum Liquidum, Polysorbate-60, Ethylhexyl Palmitate, Cera Alba, Glyceryl Stearate, Polysorbate-80, Dimethicone, Calcium Pantothenate, Cannabis Sativa Seed Extract (contains Cannabidiol - CBD), Betula Platyphylla Bark Extract, Tocopherol, Allantoin, Bisabolol, Dimethyl Isosorbide, Glyceryl Caprylate, Phenylpropanol, Polyacrylate Crosspolymer-6, Phenethyl Alcohol, Caprylyl Glycol, Decylene Glycol, Parfum
Jak pečovat o pokožku při ekzému s kosmetikou EPIDERMA®?

pomáhá mi při problémech ,když jsem se nemohla dostat ke kožnímu lékaři - dlouhé objednací doby - a já potřebovala pomoc co nejrychleji , ne až za měsíc , tak jsem to zkusila ,a výsledek se dostavil do týdne ,je možná dražší ,ale co dneska není , důležité je že pomáhá , pro mě to dobrá koupě byla a vřele doporučuju produkt i obchod ,
BK
Bc. Radmila Krištofková
Velká spokojenost
PE
Pavla Erbanová
Balzám je vynikající, používám už 2 roky na svědící nohy a jsem maximálně spokojená‼️
ZD
Zdeněk DOLÍHAL
100% spokojenost
K
Kristina R.
Od dětství trpím ekzémem, v posledních letech již ne po celém těle, ale zejména na dlaních a prstech rukou (mokvající bolestivé puchýřky přecházející v suché praskliny, které se velmi špatně hojí). Balzám mne zklidnil ekzém rukou při fázi, která není akutní (při akutním zhoršení bohužel pomáhají zatím jen kortikoidy).
T
Tereza P.
Výrobek jsem si zvolila po osypání a reakci na ATB. Některé rány mi praskly do krve, kůže byla celkově velmi suchá, bolestivá a loupala se. Mažu se ráno a večer na poškozená místa a po 3 dnech je vidět i cítit veliké zlepšení. Mám radost. Rány se zacelily, kůži se vrátila elasticita, nesvědí a přestala se olupovat. Věřím, že ani jizvy nezůstanou. Po prvním namazání jsem měla zvláštní pocit a ani vůně mi nebyla až tak sympatická, ale pak si to vše sedlo a já se upřímně těším na další mazání a úlevu pro mojí kůži. Jediné, co mě napadá, je přiklonit se do budoucna pro stejný výrobek, ovšem bez parfemace.
LŠ
Lenka Šindelířová
Zatim velka spokojenost,perfektne klidni při svedeni kuze.
SO
Svetlana Országhová
Vyhovující
DH
Dana Hladká
Jsem velmi spokojená, po nevalných zkušenostech s mnoha dalšími produkty už jsem ani nedoufala ve zlepšení stavu kůže. Takže za mě 100% ANO !
JŠ
Jitka Špačková
Úplně perfektní. Používám pro děti.
LG
Lenka Gardoňová
Už jsem svoje hodnocení psala, ale přidám další...velká spokojenost, už používám druhý rok, není nic lepšího pro mě
JČ
Jana Černá
Tento produkt je výborný. Zklidňuje a hydratuje.Lupenka je světlá a nebolí. Výborný produkt.
LH
Linda Hradecká
Tento balzám mě zbavil vyrážky na pažích, kterou jsem měla přes dvacet let, již během 14ti denního používání! Doposud mně na ni zabíraly pouze mastičky s kortikoidy, které jsem používat nechtěla. Za balzám jsem velmi ráda, je velmi příjemný, pokožku krásně hydratuje, používám ho na celé tělo. Všem doporučuji!
ZF
Zdena Fiklová
Krásně hydratuje a zvláčňuje pokožku.Jsem spokojená
LG
Lenka Gardonová
S tímto produktem jsem nad míru spokojená, zatím je to jediné, které mi pomohlo od problému nejvíc a díky za to
AT
Anna Trojanová
Čas od času se mi projeví ekzém na rukou. Po namazání mám za dva dny viditelné zlepšení. Balzám se stal součástí mé lékárny.
JL
Jitka Ložková
Prostě to funguje a jsem za to ráda.
LG
Lenka Gardoňová
Tento balzám byl pro mě téměř absolutní záchranou na prapodivný atopický ekzém, který mě trápí jen v "zimním" období a při psychické zátěži. Letos mě potrápil absolutně a nebýt tohoto..tak nevím! Můžu jen doporučit, opravdu zklidní a funguje nejvíc ze všech prostředků, které jsem kdy vyzkoušela...a nedám na přírodní produkt dopustit!
J
Jarka
Naprostá jednička. Tedy pro mne. Doporučuji všem!
Only registered users may post articles. Please log in or register.
L
to nemá chybu
Lucka
Co mám ještě psát? Opravdu nemá chybu. Dobře hydratuje, ekzém klidní, dobře se vsakuje. Jen tak dál.
JP
Splnění
Jana Polanská
Výrobek splnil moje očekávání. Doporučuji.
PH
100% účinost
Petra Hamačková
Přípravek používám již cca půl roku, úžasné zlepšení stavu pokožky, která je nyní na pohled zdravá a zmizeli všechny problémy s tím spojené jako svědivost a suchá pokožka. Jsem velmi vděčná a určitě budu nadále používat!
VM
Spokojenost
Vladimír Motyčka
Od malička trpím na výskyt ekzému v obličeji. Mám za sebou již dvě balení a zatím se ekzém nikde neprojevil. Zcela se mi změnil život. Škoda, že jsem o této kosmetice nevěděl dříve.