CBD effect

Effective dermocosmetics

Czech product

Betuldiol® - effective patented composition
Related products
Product detailed description
FOOD SUPPLEMENT BE WELL FOR CALMING THE MIND
Our product BE WELL calms your mind during the day, relieves you of daily stress and prepares your body for quality sleep that will strengthen and refresh you. You will feel its effect after just one week.
This food supplement is intended for daily use. It positively regulates tension from mental stress not only in eczema, psoriasis, and acne sufferers, it also has a positive effect on:
Frequent headaches, jaw pain
Insomnia, nightmares, disturbing dreams
Trouble concentrating, racing thoughts
Stuttering and stammering
Trouble learning and receiving new information
Trembling, hand tremors, lip twitching
Forgetfulness, confusion, poor organizational skills
Sore throat, back pain, muscle spasms
Dizziness, numbness, wooziness
Ringing, buzzing or cracking teeth
Frequent crying or suicidal thoughts
Frequent flushing, sweating
Feelings of loneliness, loss of self-esteem
Cold or sweaty hands, feet
No interest in one's appearance or punctuality
Dry mouth, trouble swallowing
Nervous habits, fidgeting, tapping feet
Frequent colds, infections, cold sores
Increased frustration, irritability
Unexplained or very frequent allergy attacks
Exaggerated reactions to insignificant things
Heartburn, stomach pain, nausea
Increased incidence of minor accidents
Excessive burping, bloating
Obsessive compulsive behaviour
Constipation, diarrhea, loss of control
Low work efficiency, productivity
Trouble breathing, frequent sighing
Lies and excuses to cover up poor job performance
Sudden life-threatening panic attacks
Chest pain, palpitations, rapid pulse
Excessive defensiveness and suspicions
Problems with communication, sharing
Low libido or poor sexual performance
Social withdrawal and isolation
Excessive anxiety, worry, feelings of guilt, nervousness
Constant fatigue, weakness
Increased anger, frustration, hostility
Frequent use of medications (including over-the-counter medications)
Depression, frequent mood swings
Weight gain or weight loss without dieting or diet changes
Increased appetite or loss of appetite
Increased smoking and alcohol or drug use
STRESS, ANXIETY, OTHER ILLNESSES
Poor sleep is very often caused by stress, anxiety or other illnesses; medication only suppresses these problems but does not eliminate them. The hemp oil contained in this food supplement acts specifically on the source of these problems.
CHEMICAL-FREE CALMING
HELPS REGENERATE SKIN CELLS
100% NATURAL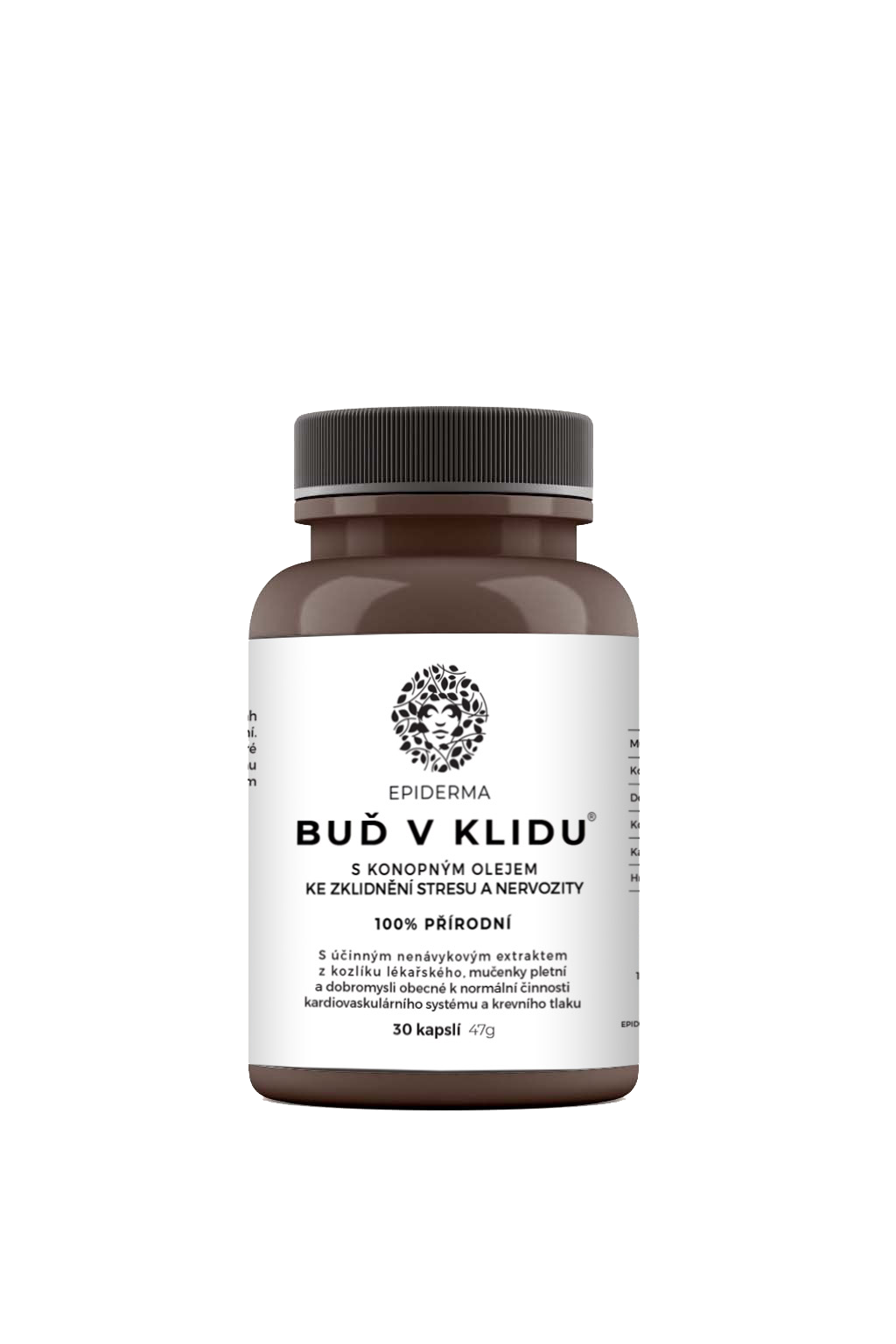 100% SATISFACTION
CONTAINS HEMP OIL
PROVIDES RELIEF FOR SKIN PROBLEMS
THE BE WELL FOOD SUPPLEMENT CONTAINS
Valerian

Purple passionflower

Oregano

Hemp oil
USE
1-2 capsules during the day for high mental stress

1 capsule in the morning and 1 capsule in the afternoon
Does not contain lactose, yeast, gluten or artificial azo dyes. Not for children. Keep out of reach of children. Do not exceed the recommended daily dose. The product is not a substitute for a healthy, varied diet. Store in a dry place at a temperature between 10°C and 25°C. Protect from humidity and direct sunlight.
BE WELL 30 capsules is registered as a dietary supplement. It has no approved curative effects and is not a medicine. Dietary supplements are not intended as a substitute for a varied diet. Do not exceed the recommended dosage.
Choose an effective natural supplement before opting for prescription sedatives.
Additional parameters
Category

:

Dietary supplements
Weight

:

0.047 kg
Gender

:

Unisex
OBSAHUJE

:

MUČENKA PLETNÍ EXTRAKT 300 MG, KOZLÍK LÉKAŘSKÝ EXTRAKT (0, 8% VALERIANE) 100 MG, DOBROMYSL EXTRAKT 50MG, KONOPNÝ OLEJ 50MG
AL
Alice Lukešová
Syn měl od detstvi nejen Adhd, vyzkouseli jsme spoustu psychiatru a leku, vše k nicemu. Po lecich ve skole vzdy usnul a mel i jine vedlensi ucinky. Tyto tablety jiz po kratkem case zahnaly vsechny jeho potize se soustředěním, nervozitou, uzkostmi, spanim, stravováním.... Syn si je nemuze vynachvalit. Pro nas uplna zachrana, nejenom se skolou. Vsem i mimo toto hodnoceni, doporucuji.
pomahá
Š
Šarlot
Užívám produkt již 10 den a mohu říct že opravdu funguje a to jsem vyzkoušela spousta tobolek, ale žádné balení nezabralo jako tohle a to trpím na dost silné úzkosti, takže Děkuju ????
Š
Šarlot
Vyzkoušela jsem již spoustu produktů od Persen forte, Lavekan, Modin atd...ale ani jeden produkt mi nepomohl byli to jen zbytečně vyhozené peníze pak jsem narazila na Epidermu, říkám to budou zase vyhozené peníze, užívala jsem první dny a říkám zase špatně dala jsem tomu šanci nyní jedu již 8 den a cítím příjemnou změnu, trpím hodně Úzkostmi a dost mě to omezuje, ale kapsle mi dost pomáhají, abych vše zvládla a můžu říct že jsou opravdu TOP a objednám již znovu :)
PG
Petr Gregor
Neuvěřitelně jsem překvapen rychlým účinkem. Kombinace bylin a konopného oleje opravdu funguje. Pocítil jsem změnu již po 4-5 dnech, V posledních měsících jsem se dostával do velmi stresujících stavů, špatně jsem spal a nyní je to lepší a lepší. Jsem rád, že jsem se dostal k tomuhle produktu.
JN
Jan Novák
OK
AS
Andrea Svobodová
Jsem velmi spokojená. Přípravek beru 2x denně teprve necelý týden, ale opravdu cítím změnu. Má úzkost se velmi zmírnila, jsem velmi překvapená, jak přírodní složení krásně zabírá. A to jsem byla krůček od použití něčeho silnějšího, neboť mé stavy byly opravdu nepříjemné...Ale tento doplněk funguje výborně, takže vřele doporučuji.
DT
Denisa Teperová
Jsem spokojená, spi v klidu jsem si pořídila již podruhé, pomáhá mi na spaní a mám lepší usínání. Přišel mi i produkt navíc jak dárek :)
Š
Šárka C.
Doplněk stravy jsem zakoupila pro osobu trpící ekzémem, zatím bere krátce, takže na hodnocení je ještě brzy, ale myslím, že nějaký efekt mít bude. Moc děkuji za bonusový produkt navíc. Konečné hodnocení produktu popíši později, věřím, že se jedná o kvalitní produkt.
AB
Adam Bělíček
Kapsle jsem dostal jako dárek při objednávce. Určitě má pozitivní výsledky na psychiku, užívám je při psoriáze. Objednal jsem si je již podruhé doporučuji. Spi v klidu na spánek ideální, především při velkém psychickém zapřahu.
AS
Andrea Starcová
Zatím velká spokojenost. Dcera bere jen pár dní takže nemohu plně hodnotit.
TZ
Táňa Zlámaná
spokojenost
L
Lukáš
Když si vezmete jednu nic to nedělá,ale když si vezmete dvě najednou tak po pár hodinách zapomenete na stresovou a psychickou situaci.
J
Jirka
Jsem spokojený, zmizel pocit napětí a že nic nestíhám. Je to z mého pohledu jeden z nejlepších přírodních prášků. Doporučuji úplně všem.
TZ
Tereza Janoušková,DM Střední školy Zeměď. A Veter. Lanškroun
Jsem spokojena.
F
Filip D
Jedny mám doma a jedny v práci.Bomba
M
Mirek Č
Beru již dva měsíce a spokojenost.
BV
Bohumila Veselská
Již po třech tabletách cítím pozitivní účinek na uklidnění, začínají ustupovat příznaky únavy a začínám být klidnější. Jsem zvědavá, jaký účinek se dostaví po delším delší užívání.
JN
Jarmila Novotná
Užívám vždy před začátkem zkouškového období. Učení mi jde lépe a při samotné zkoušce jsem více v klidu.
LH
Luděk Hamrlík
Účinek se dostavil cca po měsíci. Doporučuji.
NU
Nechci uvést
Přípravek mi pomohl. Doporučuji!!!
LG
Lenka Gardoňová
Rovněž tohoto balení mám jedno za sebou a můžu jen potvrdit, že funguje...cítím se více v pohodě i během dne a jen můžu litovat, že jsem tento produkt neobjevila dříve! Můžu jen doporučit všem kdo mají stresové zaměstnání, ale životní situace...
MP
Michal Poledno
Ke konci mesice jsem v praci vystaven velkemu stresu kvuli kteremu jsem obvykle spatne spal. Od te doby co jsem zacal s Bud v klidu jsem prijemne uvolneny a vse mi jde lepe od ruky. Jako bonus jsem byl povysen ????
Only registered users may post articles. Please log in or register.
M
Složení?
Michaela
Proč v popisu neuvádíte složení? Velký výčet k čemu pomáhá je sice pěkný, ale jak má člověk vědět co v tom je a tím pádem dává do těla? Děkuji za odpověď.
JS
Složení?
Jiří Skalický
Pracuje se na nápravě. Sloýení se někam podělo. Děkujeme za upozornění.
PH
Účinky
Petr Hamrlik
Neustále jsem ve stresu a začal jsem mít zdravotní potíže. Po dvou měsících užívání tohoto doplňku je znatelná změna. Dokonce se mi zlepšil i sexuální život.
TK
čistá mysl
Tomáš Kotěra
Pracuji v jedné z největších finančních poradenských společností vždy před koncem kvartálu sílí tlak na splnění plánů a vedení společnosti vyžaduje vysoké pracovní nasazení. Díky produktu Buď v klidu od Epiderma zvládám toto období již zcela bez problému díky přípravku se mi snížila úroveň napětí v mysli a zvýšil pracovní výkon, proto již konce období zvládám zcela bez problémů. Produkt jsem doporučil i svým kolegům a díky němu nyní již vše zvládáme v klidu!